Beverages
cranwhat
frozen daiquiri
open house punch
another frozen daiquiri
Singapore Sling
spicy cranberry punch
whiskey sour punch

Appetizers & Snacks
bacon dip
clam dip
guacamole
pimento cheese spread
spicy bean dip

Dressings, Sauces & Rubs
Creole style spice blend
raspberry vinegarette

Salads
cole slaw
fresh tomato salad
macaroni salad

Soups, Stews & Chowders
chili
clam chowder
corn & potato chowder
oyster stew
red beans & rice
southern chowder

Breads
bran muffins
cornbread
corn fritters

Vegetables
baked cheese potatos
praline sweet potatos
stuffed mushrooms

Pasta Dishes
fried spaghetti (spaghetti pancakes)
lasagna
spaghetti sauce

Meats
Poultry
Seafood
crab cakes
seafood lagniappe
shrimp boil

Game
Casseroles
chicken heart gourmet
cross cultural stir fry
green bean casserole
spuds & chops
squash casserole
stuffed cabbage
southwest pan pasta

Desserts
brownies
chocolate chip cookies
naked apple pie
nut candy
sugar cookies
walnut apple stir fry

Everything Else
Cajun Clark's Cookbook
Click on the cookbook below to get more information on Cajun Clark's Cookbook.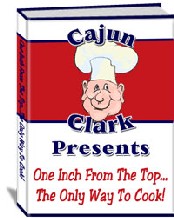 Site Navigation

Cooking Related Software & E-Books

Support this worthy cause

Tried and True Recipes from the Family and Friends of Sarah Inks
Click on this link for more information: Cookbook information
A special cookbook, that you will feal great about buying.
Here's a few of the recipe titles:
"Black Bean Chicken Chili"
"Corn Bread Salad"
"Parmesan Potato Casserole"
"Beer Salmon"
"Never Fail Pie Crust"
"Green Pepper Jelly"
Over 100 pages!